35 years of activity, 400 people, 6 geographies (Portugal, Spain, Angola, Mozambique, China and Cape Verde), 150.000 sqm warehouse space, Worldwide Partner Network.
Olicargo is proudly a Logistics Operator of international reference.
Olicargo had an outdated infrastructure, which would represent a large investment for the company if it was to be updated. In addition, Olicargo wanted to reduce the cost to maintain the infrastructure, while increasing their agility and process optimization.
Olicargo also wanted to reduce the number of hours spent managing their entire infrastructure, thus reducing operating costs. Another main concern of Olicargo is security in a current context of emerging cyber threats.
Olicargo chose Magic Beans as they were given references by AWS and very positive feedback from other partners, about our experience and knowledge working with AWS Services as well as our agility and swiftness.
An as-is/lift & shift migration from the current on-premises infrastructure to AWS was proposed. EC2 instances were selected based on their usage and cost patterns to not provision resources with mismatched characteristics. In terms of storage, all EBS volumes were implemented as per Olicargo's requests to not allocate more memory than needed. Availability is assured by Olicargo, as they want to maintain control of their infrastructure. 
Initially, Olicargo had only 1 VPN for their 5 locations, with all traffic leaving from their headquarters. This brought latency problems since it was a lot of traffic going through a single VPN tunnel. To answer this problem 5 site-to-site VPN's were created one for each location, thus dividing the traffic by 5. Traffic that initially passed through the first VPN can be segmented, allowing for a significant improvement in upload and download speeds. To manage the backups of Olicargo's infrastructure, Veeam-On-AWS Backup was implemented, with a hourly backup policy with a 1-month retention period.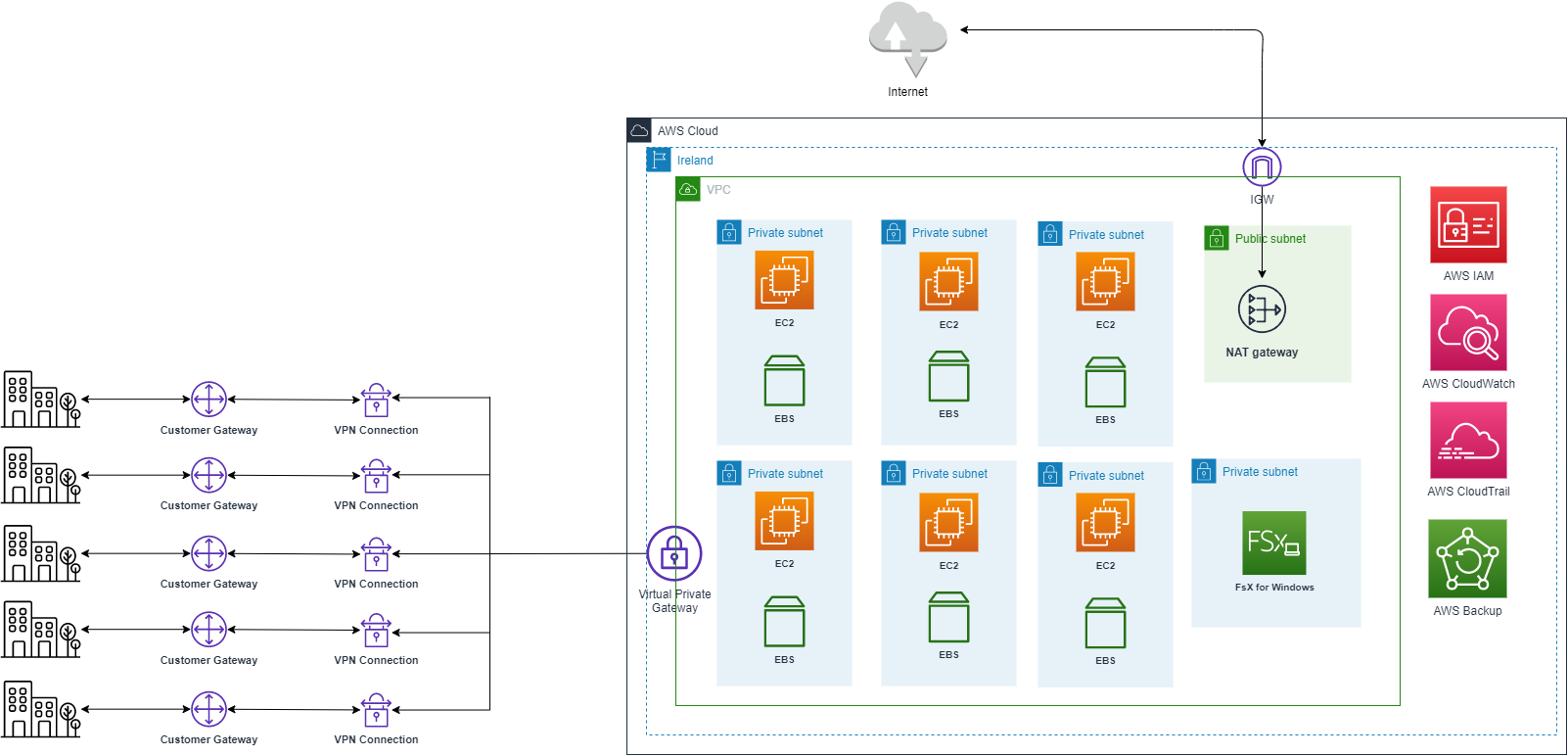 Figure 1 - Olicargo Infrastructure
Data Security was a concern for Olicargo, so the AWS Cloud offered many advanced security features that guarantee that data is securely stored and handled. With Identity and Access Management (IAM), Olicargo can specify who or what can access services and resources in AWS, centrally manage fine-grained permissions and analyze access to refine permissions across AWS. Also multi-factor-authentication has been adopted for an extra security layer.
Another fact is that data can be stored in the cloud without capacity constrains which also helps Olicargo with backup and restore purposes. Ultimately, with this implementation, Olicargo saw positive impacts in their production and security, resulting in an increase in their business agility and resilience, as well as cost reduction.
To learn more about how AWS and Magic Beans can help your business, contact us at team@magicbeans.pt

© Copyright - | magic beans | All Rights Reserved | Powered by: valkirias